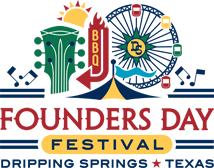 Founders Day Festival and Cookoff – Dripping Springs
120+ teams competing at this 3 day BBQ competition.
Dripping Springs Founders Day Festival is a non-sanctioned cook-off and street fair with carnival that lasts three days at the end of April.  There are craft vendors, food vendors, drink and alcohol vendors AND FREE FOOD AND BOOZE FROM SOME OF THE BBQ TEAMS!
Tipsy Brisket will personally be there giving away over 3000 jello shots throughout the weekend as well as competing.  Come visit us on the north side of Mercer Street near Ranch Road 12, in front of Goldie's Fine Jewelry!
Hourly Schedule
Friday
7:45PM

-

8:00PM

Margarita Turn In
Saturday
10:45AM

-

11:00AM

Chicken Turn In
1:45PM

-

2:00PM

Rib Turn In
4:45PM

-

5:00PM

Brisket Turn In
Sunday
10:15AM

-

10:30AM

Salsa Turn In
12:15AM

-

12:30AM

Chili Turn In
2:30PM

-

4:30PM

Award Ceremony